Version françaiseEnglish version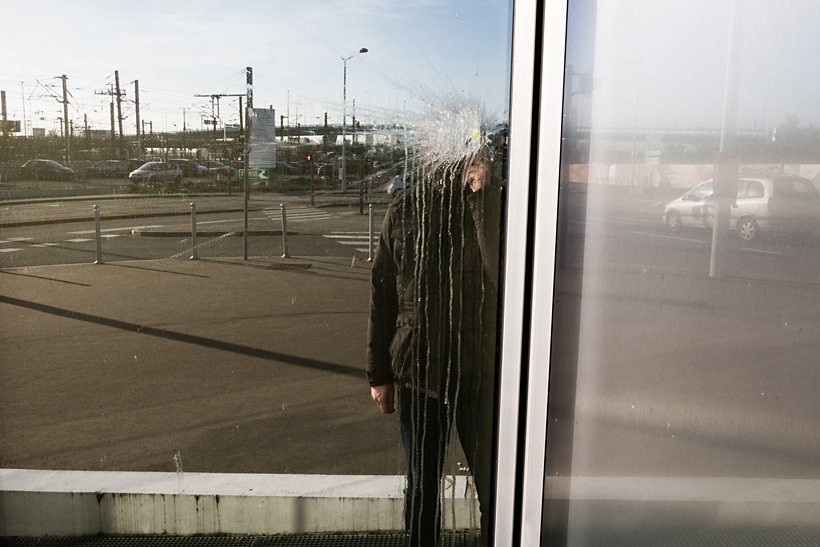 Julien Legrand est photographe. Né en 1979 dans le Nord de la France, il est diplômé en webdesign et en graphisme. En 2012, il a l'occasion de présenter son travail au Miami Street Photography Festival et en 2016 il figure parmi les finalistes des International Street Photography Awards de San Francisco.
L'intérêt de Julien Legrand pour la photographie s'origine de sa passion pour le skateboard qui, très tôt, lui fournit l'occasion de circuler librement dans les rues de sa ville, d'y passer du temps et de devenir l'observateur privilégié des nombreux événements étranges ou étonnants qui s'y déroulent. Le skateboard sert également de prétexte à des détournements de matériaux urbains dans le but de les intégrer à sa pratique. Les planches de skateboard en elles-mêmes, avec leurs décorations, ont contribué à faire naître chez Julien Legrand le goût des compositions graphiques inspirées du street art. Une violente chute lui ayant cependant imposé de mettre un frein à cette activité, il poursuit à présent ses explorations urbaines à travers la photographie.
Julien Legrand se sépare rarement de son appareil photo. "La photographie est une obsession pour moi, elle m'accompagne tous les jours comme un vieil ami fidèle, c'est également une sorte de thérapie qui me permet de mettre de côté mon anxiété". Inspiré par des photographes tels que Gueorgui Pinkhassov, Harry Gruyaert, Alex Webb, Ernst Haas ou encore Garry Winogrand, Julien Legrand explore la frontière entre urbanisation et nature, et interroge la relation de l'individu à son environnement.
Julien Legrand se garde d'exercer un contrôle total sur les facteurs entrant dans ses compositions. Il laisse l'environnement venir à lui tel qu'il est et réorganise la matière en détournant les codes habituels au moyen d'effets de couleur, de lumière et de structure.
Le travail de Julien Legrand révèle enfin le caractère surprenant, voire l'étrangeté de nos comportements les plus habituels ou banals en apparence. Il met en évidence la nature de notre rapport au monde d'une façon qui invite le spectateur à la renouveler. Ses photos réactivent l'imaginaire face à un univers d'usages et de significations pré établis ou stéréotypés, et appellent à la (re)découverte d'un rapport au monde non plus utilitaire ou consumériste, mais bien poétique.
Julien Legrand est également le fondateur de SEEN Magazine, magazine de photographie contemporaine.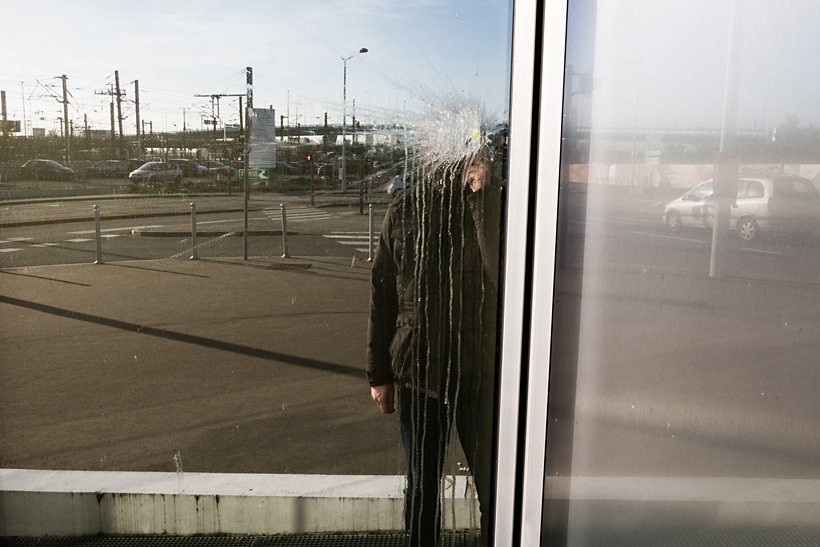 Julien Legrand is a photographer. Born in 1979 in the North of France, he graduated in webdesign and graphic design. In 2012, he has the opportunity to present his work at the Miami Street Photography Festival and in 2016 he is among the finalists of the International Street Photography Awards in San Francisco.
Julien Legrand's interest in photography comes from his passion for skateboarding which gave him the opportunity to move freely through the streets of his city, linger and become a privileged observer of the many strange or amazing events taking place there. Skateboarding is also a pretext for appropriating the urban landscape for the skateboarders own purposes. The skateboards themselves, with their decorations, helped to inspire Julien Legrand's taste for graphic compositions of street art. A violent fall, however, forced him to put a brake on this activity, he now pursues his urban exploration through photography.
Julien Legrand is almost never without his camera. "Photography is an obsession for me, it accompanies me every day like a faithful old friend, it is a kind of therapy that allows me to put aside my anxiety." Inspired by photographers such as Gueorgui Pinkhassov, Harry Gruyaert, Alex Webb, Ernst Haas or Garry Winogrand, Julien Legrand explores the boundary between urbanization and nature and questions the relationship of the individual to his environment.
Julien Legrand is careful not to exercise full control over the factors involved in his compositions. He lets the environment come to him as it is and reorganizes it by diverting the usual codes by means of effects of color, light and structure.
The work of Julien Legrand finally reveals the surprising character, even the strangeness of our behaviors, however usual or banal in appearance. It highlights the nature of our relationship to the world in a way that invites the spectator to renew it. His photos reactivate the imagination faced with a universe of habits and pre-established or stereotyped meanings, and call for the (re)discovery of a relationship to the world that is no longer utilitarian or consumerist, but rather poetic.
Julien Legrand is also the founder of SEEN Magazine, contemporary photography magazine.
RESUME
2022
January 2022, Featured @ Fisheye Magazine
2021
September 2021, Featured @ NOICE Magazine
2020
April 2020, Publication @ Air Canada Enroute
February 2020, Exhibition @ Subjectively Objective's Detroit area gallery space
2019
August 2019, Featured @ Observations in the Ordinary (a Subjectively Objective book)
2018
November 2018, Exhibition @ Galerie Joseph Turenne – Paris (France)
May 2018, Finalist @ Made in Bruxsel Festival – Brussels (Belgium)
March 2018 > April 2018, Exhibition @ Graine de Photographe – Paris (France)
2017
November 2017, Exhibition @ ImageNation Paris – Espace des Arts sans Frontières – Paris (France)
October 2017, Exhibition @ Brussels Street Photography Festival – Muntpunt – Brussels (Belgium)
August 2017, Featured @ APF Magazine (Art Photo Feature)
June 2017, Publication @ Esquire Russia Magazine
May 2017, Exhibition @ Street Sans Frontières – Espace des Arts sans Frontières – Paris (France)
April 2017, Interview @ Leica Camera Blog
March 2017, Leica Master Shot @ Leica Fotografie International
February 2017, Publication @ Fragment Magazine Vol.1
2016
November 2016, Photo shoot for Pentax catalogue and Pentax website
August 2016, Interview @ 121clicks.com
May 2016, Editors' Pick @ LensCulture.com
April 2016, Finalist @ International Street Photography Award – San Francisco (USA)
2015
December 2015, Featured @ Fragment Catalogue
Novembrer 2015, Exhibition @ Galerie DUO – Paris (France)
2014
Novembrer 2014, Featured @ Street Parade – Paris (France)
June 2014, Featured @ kwerfeldein.de
2013
Dec. 2013 > Jan. 2014, Exhibition @ Centre Marine – Dunkerque (France)
October 2013, Featured @ Onextrapixel.com
September 2013, Interview @ Top Photography Films
August 2013, Featured @ Le Journal de la Photographie
May 2013, Interview @ Eric Kim's blog
February 2013, Featured @ Le Journal de la Photographie
2012
December 2012, Exhibition @ Miami Street Photography Festival alongside Alex Webb – Miami (USA)
October 2012, Interview @ Arte TV
May 2012, Featured @ Street Photographers Book
January 2012, Featured @ iGNANT.com
2011
Oct. 2011 > Nov. 2011, Exhibition @ Transfotografia Festival – Gdansk (Poland)
October 2011, Exhibition @ Bar Parallèle – Lille (France)
September 2011, Exhibition @ La Halle au Sucre – Lille (France)
July 2011, Featured @ Visite Déco (French magazine)
June 2011, Featured @ Transphotographiques – Lille (France)
2010
December 2010, Interview @ xatakafoto.com
Nov. 2010 > Jan. 2010, Exhibition @ Exposition urbaine – Dax (France)
November 2010, Publication @ Courrier International (French magazine)
Nov. 2010 > Jan. 2010, Exhibition @ Insite – Roubaix (France)
November 2010, Exhibition @ 11è Fòrum Fotogràfic Can Basté – Barcelona (Spain)
October 2010, Exhibition @ PPGM gallery – Roubaix (France)
August 2010, Honorable mention @ Photographer's Forum Magazine Contest – Santa Barbara (USA)
March 2010, Exhibition @ CRAM – Villeneuve d'Ascq (France)
2009
October 2009, Bronze medal @ 3rd International Salon of Digital Photography – Celje (Slovenia)
September 2009, Featured @ Compétence Photo (French magazine)
July 2009, Publication @ Elle Magazine